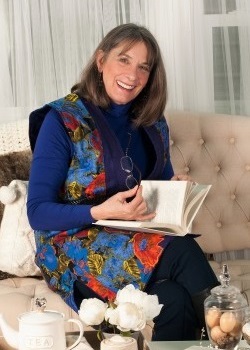 Meet Joyce Olson LMT, CST, Reiki Master
"In learning about  health from a  Holistic perspective, physical, emotional, and spiritual, and when given the opportunity,  I believe we have a great capacity to heal.   I bring together many years of practice, and academic learning, to create a safe container for your continued well being."   ~Joyce
Joyce has been studying and practicing holistic heath for over twenty-seven years. She started as a massage therapist in 1990 and graduated from the Oregon School of Massage Therapy In Portland, Oregon.
She studied Cranial Sacral Therapy with John Upledger  D.O. in 1991 learning about a more subtle hands on approach in detecting restrictions within the Cranial Sacral system of healing.  Over many years of practice the work became more subtle, and obvious that there are many different energetic and fluid dynamics within the human system. Working with John Barnes P.T., L.M.T., N.C.T.M.B., helped her to understand the deeper connection between the Cranio Sacral fluids and the connective tissue and that the tissues within the body can hold memory of  unresolved issues, becoming restrictive patterns causing pain, loss of range of movement, and less potency within the body to heal itself.
Joyce also studied Reiki with William Rhand, and Sheila King becoming a Reiki Master/Teacher. This opened the door to the practice of heart centered energy work which helped create a seamless understanding that innate healing is and has always been there for all of us to access for healing. In harmony with Reiki  she studied  Shamanic Healing with  Michael Harner founder of the Foundation of Shamanic Studies, and  Linda StarWolf of Venus Rising Institute for the Shamanic Arts, where she gained insight into the necessity and importance of resourcing  self and  strengthening boundaries in healing trauma. It also enabled her to be able to access a deeper part of herself and tap into her own inner strength.
Joyce has an undergraduate degree in Interdisciplinary Studies at Marylhust University. These studies included Psychology, Communication, and Art/Art Therapy.   As an artist herself she was able to to see how, creativity, and visualization could help with personal growth, development and well being. She is now in a 700 hour course to complete her foundation training in Biodynamic CranioSacral Therapy. She is studying with Robyn Michelle Jones bringing together many years of course work and practice to gain a deeper understanding of the Inherent Health  through Dynamic Stillness and the movement of the Breath of Life within the CranioSacral system to support gentle resolution within the body and nervous system.
Bachelor of Arts Degree from Marylhurst University
Joyce received her Bachelor of Arts Degree from Marylhurst University in Interdisciplinary Studies of psychology, communication, and art.  She graduated in June of 2011.
Foundation for Shamanic Studies
She studied Shamanic Healing at the Foundation for Shamanic Studies: Founder, Michael Harner 1992-1994 and is a graduate of Venus Rising University for Shamanic Healing:  Founder, Linda Star Wolf.
Techniques
Swedish: Oregon School of Massage
Deep Tissue/Sports Massage
Myofascial Release Technique
Cranial Sacral Therapy: John Upledger
Positional and Active Releases/Active and Passive Stretching
Prenatal /Postnatal Massage
Reflexology: Oregon School of Massage
Hot Stone Massage
Cupping: Trained by Dr. Ming
Reiki system of Energy Healing