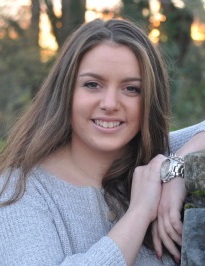 Meet Ashley Flint, NW Family Wellness Center's front desk Receptionist. Ashley joined the NWFW family in 2017. Ashley has had an interest in medicine since she began volunteering at Willamette Falls Hospital in 2011 and alternative medicine since 2013 when she first tried acupuncture.
Ashley enjoys meeting and serving people here at NWFW.  She especially likes being a part of the medical field and helping others. You will find her behind the front desk eager to answering patients questions, scheduling appointments, while helping to keep the clinic running smoothly.
Ashley is currently working towards her degree in ultrasound.  In her free time, she enjoys spending time with her family, riding horses with her friends, and snuggling with her pups.